Our solutions for Finance
Exchange, store, keep financial documents of external interlocutors
The financial sector makes massive use of encryption solutions, whether for financial flows or for data-based encryption.
However,
there remains a blind spot in encryption: unstructured file exchanges with external partners.
There are solutions for all the massive flows, but when it comes to reports or documents whose exchanges are infrequent, suddenly, there are no more simple and common solutions…
We often fall back on the encrypted zip with sending a password or on an account opening on a dedicated server. Data security is compromised.
CryptnDrive

manages these transfers in a SIMPLE, SAFE, CONTROL-BLE and TRAÇABLE way. And always without any software deployment for interlocutors.

SDK Lybcrypt

allows you to encrypt your application data with native end-to-end encryption.
Preventing financial data leakage
Our solution restricts access to certain users only and subjects access to the data to an upstream validation.
In this way, the leakage of data outwards is strictly reduced.
The data is automatically encrypted by the browser.
This way a user who doesn't have the decryption keys won't be able to access the data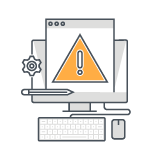 Strengthen control of data access
Data access control must be done inside and outside the organization. You need to know who has access to what data within the organization and to whom the data is shared outside and what types of data are shared.
Our solutions allow you to implement this enhanced control.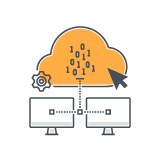 Building your customers' trust
Ensuring the highest level of security in the banking sector is paramount.
With end-to-end encryption, you can assure your customers that their data will not be accessed by a third party and thus strengthen their confidence in your organization.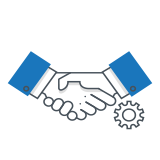 We offer you secure data encryption solutions while respecting RGPD.
Fund manager
A collaborator creates a deposit for the management of a client's funds. He wants to share the deposit with the client. With the solution Lybero.net a designated administrator validates the invitation sent to the customer. The customer has access to the depot. The repository becomes a restricted area for the stakeholders of the fund in order to avoid errors of recipients. Only people whose invitation (and therefore identity) has been validated have access to it.
K.Y.C. management
When considering a prospect's application for financing, the bank's employee asks the prospect to provide the supporting documents for the assessment of his application. Thanks to our K.Y.C. version, the bank can receive these coins in an encrypted way without the prospect registering in the information system: security and simplicity!
Internal access management
A bank employee wants to share access to a safe with the bank's lawyer. Our solution proposes to set up a quorum of secret administrators validating access to the safe. The quorum does not have access to the secrets in the safe and any access to that safe is subject to quorum validation. Security and confidentiality are guaranteed.
615 rue du Jardin Botanique, CS20101, F-54603 VILLERS-LES-NANCY, France
Monday to Friday
9am – 12pm, 2pm – 6pm
You are interested in our offer, take a meeting with our technical and commercial service.