Lybero.net meets companies' need for sensitive data protection.
Becoming a partner of Lybero.net means offering your customers the latest technology in terms of confidential data protection.
With our patented technology, you have a competitive advantage to set you apart from the many players in this market.
Offer products that meet your customers' needs:
SAAS or on premise, easy management and use .
Set yourself apart from your competitors with patented technology.

A technical expertise recognized thanks to our collaboration with Inria.
An advantageous partnership model: financially viable, close collaboration with our teams based on transparency.
Our partnership program
Join a program based on close collaboration and trust!

Financial advantage
Financially attractive program with a commission on product sales
Resellers commission on sales of associated services
Close collaboration for efficient and lasting growth
Transparency on all sales

Marketing support
Providing the media kit Lybero.net
Print and web communication media
Digital marketing actions
Event support at trade shows
Spreading newsletters
Dedicated marketing interlocutor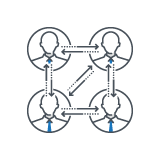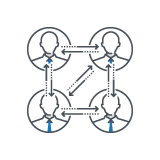 Sales support
Sales support tools for your salespeople
Business challenges
Technical and sales training on our products
Free use of CryptnDrive for your sales teams with a dedicated partner drive
Dedicated sales interlocutor
For any specific questions or requests our team is here for you!
You are looking for products offering secure technology solutions to:
strengthen your expertise
Expand your client portfolio
Become a sales partner Lybero.net!
615 rue du Jardin Botanique, CS20101, F-54603 VILLERS-LES-NANCY, France
Monday to Friday
9AM – 12PM, 2PM – 6PM
You are interested in our offer, schedule a meeting with our technical and sales team.